Hello all!
So what have I been up to? Last week I sat on a throne in the woods and played with swords for a gorgeous 'Dark Tarot' theme. Dressed in beautiful rich velvet bell sleeved dresses and playing around with masks in the middle of the woods on a cute handcrafted wooden throne was a well needed break from the norm. I am sure the photographer will share the images at some point.
I'm planning next year's calendar already.  I've had a lot of support from people telling me that this year's was the best so far.  It's hard to top that!  Shall I stick with the same photographer as last year, (Andy is a great photographer and you all seem to enjoy this calendar), or
I am slowly getting back into wrestling.  There is some pain still present (often a lot)  but avoiding standing and kneeling on that one knee isn't too bad.  Sessions are still in the light, fantasy, roleplay, or specific (smothers, pins, domination, beatdown etc) genres.  The event in Belgium sadly got cancelled as a few more girls dropped out.
Last week I also met up with a producer in London looking to make a mini series based around female wrestlers.  I am casting 6 women for this role, see GooeyGrapplingGirls  for more details on that 😀
As I am not currently playing for my team this season, and I missed GB trials due to my knee,  I've decided to try and be useful and be there for the boys.  I have taken to the other side of the camera, and here is one of the images I'm proud of  from Sunday's game.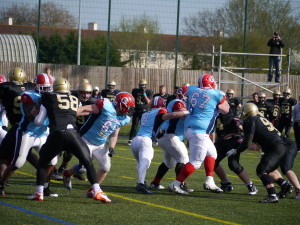 That seems to be about it for now I think 😀